Review
The Art of Earth Architecture:
Past, Present, Future
Jean Dethier
Princeton Architectural Press, 2020
Jean Dethier's The Art of Earth Architecture is an expansive overview of the use of earth as a structural building material. Along with twenty contributing authors, and guided by a scientific committee of Patrice Doat, cofounder of the CRAterre Lab at the Grenoble École Nationale Supérieure d'Architecture, and Hubert Guillaud and Hugo Houben, coauthors of the influential reference encyclopedia Earth Construction: A Comprehensive Guide (1994), Dethier explores the cultural and historical significance of building techniques inspired by ecologically responsive making and living. Excellently designed and edited, the book persuasively demonstrates that earth construction effectively addresses many of the ecological, ethical, cultural, and social issues we now face.
The opening chapter, "Construction Logic," discusses a range of diverse fabrication methods, followed by an in-depth explanation of the widely utilized techniques of rammed earth, cob, and earth blocks. Dethier shows that raw earth can be used in a range of building types at varying scales appropriate to the needs of contemporary lifestyles. A house in Nigeria by Francis Kéré illustrates contemporary methods, while projects in Mexico, Australia, and Malaysia illustrate traditional approaches. He also addresses the importance of understanding soil composition and material properties, emphasizing performance and ecological merits. This argument aligns with my own experiences. In a project I carried out in Southern Louisiana, for example, we discovered that the high silt content of some soils meant that stabilized earth blocks required a higher concentration of cement than in other locations.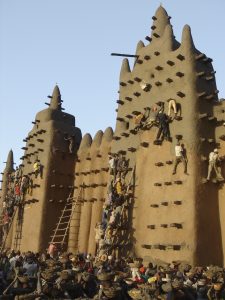 Figure 1. Mali, the Great Mosque of Djenné, regular refurbishment of the exterior. Image © Aga Khan Trust for Culture, photo by Anne-Hélène Decaux.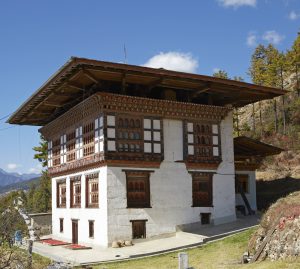 Figure 2. Bhutan, rural houses built with rammed earth. Image © Marie Schuiten
The seven subsequent chapters explore the influences and potentials of raw earth across the globe. Five of the chapters are abundantly documented with large drawings, photographs, and illustrations of built examples. Each chapter opens with an introductory essay by an expert, followed by short supporting narratives, and a vast range of recommendations for further reading.
Dethier devotes three chapters to individuals and organizations that promote earth construction divided into three time frames: "1789 to 1968," "1970 to Present," and "The Future."  He argues that the creation of industrialized building materials has led to a myriad of present-day environmental issues. The extreme energy consumption necessary to produce and transport steel for example, beginning with the expansion of iron production in nineteenth-century Europe, has significantly contributed to CO2 emissions and greenhouse gases. Dethier surveys this history through the work of pioneering architects, artists, philosophers, and writers. He advocates for the viability of in-situ raw earth as a contemporary building material as demonstrated by buildings by Francis Kéré, Wang Shu, and the founders of CRAterre. He includes six "viewpoints" about the future from Lara K. Davis, codirector of the Auroville Earth Institute, and Anna Heringer, a German architect known for her work in Bangladesh, among others.
The chapters on "Historical Innovation" and "Vernacular Heritage" point out the ecological benefits of building with earth. Earthen building cultures have developed within and in response to a wide range of weather conditions. Vernacular builders in the Gulf Coast have used earth construction to counteract hurricanes, while builders in Pakistan must adapt to heat, humidity, and monsoons. These communities use earth as a primary construction material to adapt to their unique environments and the available local resources. Unfortunately, in industrialized societies, the development of earth construction projects which are responsive to local means and needs is often impeded by burdensome regulations.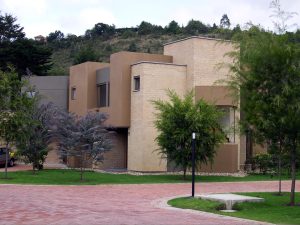 Figure 3. Residential blocks designed by architects J.P. Urbina and M. Sanchez. Image © Dario Angulo.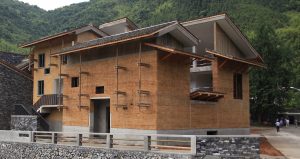 Figure 4. Village of Wencun, residential building from rammed earth by architects Wang Shu and Lu Wenyu. Image © Amateur Architecture Studio.
Dethier's writing—along with the stunning images—will inspire and spark further investigation. While designers and planners might need to dig deeper into the technical literature if they wish to engineer their own projects, the information and stories will engage and motivate a general audience. In particular, the book is well-suited to helping guide students through the technical, political, and social topics that shape earth construction. In my own design studio teaching, students have found the arrangement of resources an especially stimulating starting point for deeper study. The future of earth architecture is vital to ensuring the future of the earth.
Robert Holton is associate professor at the Louisiana State University School of Architecture.  His research focuses on the materiality, fabrication, and assemblage techniques of earth block construction set within the context of the US Gulf South, a hot humid climate prone to severe weather events.  In addition to research and scholarship, Holton disseminates the knowledge and use of earth as a building material through the teaching of his studio courses in the US and France.
How to Cite This: Holton, Robert. Review of The Art of Earth Architecture: Past, Present, Future, by Jean Dethier, JAE Online, June 3, 2022.