Fellowship
2021-22 JAE Fellows Announced
SUPPORTED BY A GRANT FROM THE GRAHAM FOUNDATION FOR ADVANCED STUDIES IN THE FINE ARTS.
The Journal of Architectural Education (JAE) and the Association of Collegiate Schools of Architecture are pleased to announce the 2021-22 members of the JAE Fellows Program: Dele Adeyemo, Ella den Elzen, Curry Hackett, and Bz Zhang.
The JAE Fellows Program, made possible with the support of the Graham Foundation for Advanced Studies in the Fine Arts was developed to respond to the recognized need for further structural support of Black, Native/Indigenous Peoples, and other people of color in architectural discourse. The fellowships focus on the support of BIPOC writers and designers—whether individually or in a collective—who are not affiliated full-time with a university.
Each fellowship includes an individually tailored commitment of mentorship and advocacy from the JAE Fellows Advocates, an international network of renowned architectural educators. The JAE Fellows Advocates are: Neeraj Bhatia, California College of the Arts; Jay Cephas, Princeton University; Sarah Deyong, University of Nebraska-Lincoln; Nathalie Frankowski, Iowa State University; Cruz Garcia, Iowa State University; Joyce Hwang, University of Buffalo; Jennifer Newsom, Cornell University; Mitchell Squire, Iowa State University; Thena Tak, University of British Columbia; Ivonne Santoyo-Orozco, Bard College; and Huda Tayob, University of Cape Town.
Extensive programming is planned to highlight the Fellows' work, such as webinars, interviews, online conversations, and other events to engage a broader public, including students, and to open an expansive discourse on the future of disciplinary scholarship and publication. The JAE Fellows' work will be published at the end of the Fellowship period on JAE's website (www.jaeonline.org).
Dele Adeyemo is an architect, creative director and critical urban theorist. His practice, research and pedagogy interrogate the underlying drivers of architectural development and urbanization, locating them in racialized logistical processes that orchestrate everyday patterns of life. Dele's most recent projects include Black Horizon (2019) presented at the 2nd Edition of the Lagos Biennial; The Cosmogony of (Racial) Capitalism (2020) commissioned for the 5th Istanbul Design Biennial; and the temporary solo exhibition titled Making Black Horizons (2021) at Camden Art Centre, London. Dele is a PhD candidate in the Centre for Research Architecture at Goldsmiths, University of London, a recipient of the Canadian Centre for Architecture and Andrew Mellon research grant and teaches an Architecture Design Studio with Ibiye Camp and Dámaso Randulfe at the Royal College of Art in London.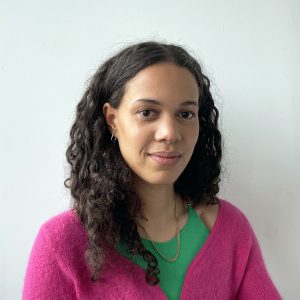 Ella den Elzen (she/her) is a researcher, curator, and artist. She holds a MArch from McGill University. Coming from a background in architecture, her practice engages with exploratory modes of architectural representation to explore the role of the built environment in society. Her research examines topics linked to migration, extraction and settler-colonial infrastructures. Through the use of archival material and oral histories, she aims to reveal the narratives that architectural drawing and model-making do not always show. Ella has exhibited work internationally at ACUD Galerie in Berlin and her writing has been published by the Journal of Architectural Education, the Canadian Centre for Architecture, and Public Parking Journal. Ella has publicly lectured on her projects at Fondation Phi in Montréal, QC and Galérie UQO in Gatineau, QC. Previously, she co-instructed Architectural Theory at the University of Waterloo with a focus on subjectivity and modern property.
Curry J. Hackett is a transdisciplinary designer, public artist, and educator. His practice, Wayside, synthesizes cultural and ecological narratives to envision meaningful work in the public realm. Noteworthy projects include the Howard Theatre Walk of Fame, the DC High Water Mark project, and his ongoing research project, Drylongso, which explores relationships between Black material culture and land. Curry began his academic career in 2019 at his alma mater Howard University in Washington, DC where he studied architecture. He has since taught at Yale University in New Haven, CT, Carleton University in Ottawa, ON, and City College of New York in partnership with the anti-racist design justice school Dark Matter University.
Bz Zhang is an architect, artist, organizer, and educator based on unceded Tongva land (Los Angeles). They are a core organizer with the Design As Protest Collective and Dark Matter University and a licensed architect in California. In their design and research practice, they investigate physical and cultural construction as entangled processes and use disciplinary tools of architecture to imagine futures beyond settler colonialism, racial capitalism, and cisheteropatriarchy. As a queer trans non-binary Chinese-diasporic artist, they construct new narratives through intentional misuse, misreading, misalignment, hiding in plain sight, and an extreme attachment to certain objects. Previously, they were the 2021—2022 Citizen Architect Fellow at the University of Southern California, and they have taught at California College of the Arts, University of Michigan, University at Buffalo, University of California, Berkeley, Jefferson University, and Brown University. Bz received a Master of Architecture from the University of California, Berkeley, and a Bachelor of Arts with Honors in Visual Arts from Brown University. In their free time, they look for birds and trash in the Los Angeles River.